The 2021 LOGGERS' JUBILEE
INVITATIONAL LAWNMOWER RACE
AUGUST 13, 2021
Start your mowers!
The Morton Loggers' Jubilee is already preparing for next year's celebration. We're looking forward to seeing you at the track on August 13, 2021. It is our desire to continue to provide the largest, most competitive and most fair race of its kind.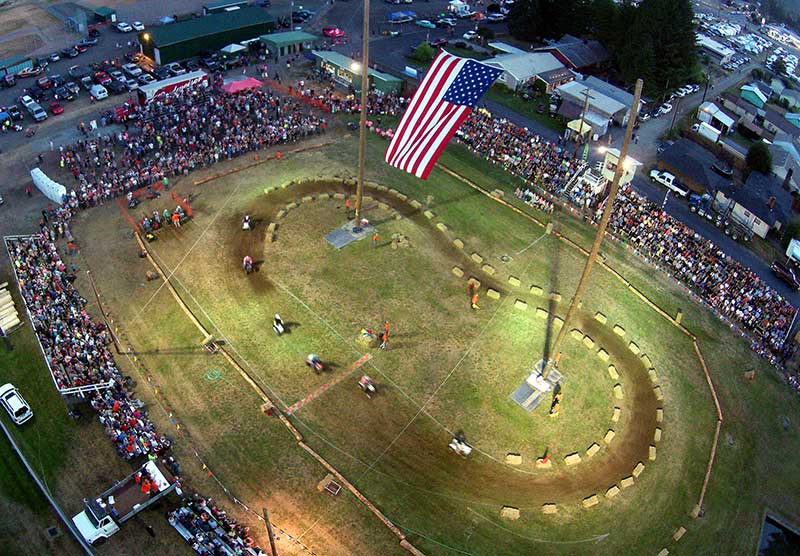 Over 40 years ago our race started out as a true lawnmower race, and our intention is to keep it just that. We want to provide a fun, fair, competitive race with basic lawnmowers that anyone can build, that anyone can enter, and that anyone can have a chance to win first place, without spending a fortune.
2021 Lawnmower Races
DRIVERS MEETING
August 13th at 6:30pm
Time Trials to follow meeting
with racing beginning at 7:30pm.
NO PETS ALLOWED
ADMISSION:
Adults $10 – Seniors: $8
Children(6-12): $5
Children 5 and under FREE
Participant information:
PLEASE READ THE RULES CAREFULLY. Our race committee will be checking all machines and has the final say on your entering and we don't want anyone to be turned away on race day.
SCHEDULE OF EVENTS:
Check In begins at ….4:00 p.m.
Drivers meeting………..6:30p.m.
Time Trials following the meeting
(All drivers must attend)
PRE-REGISTRATION THIS YEAR IS $10.00 for each racer. If you register at the gate it will be $20.00. So make sure you register early!
This must be RECEIVED BY JULY 20th with questionnaire and waiver. We want everyone who is participating to have his or her name in the program. It makes it so much easier for the announcers, PLUS IT SAVES TIME AT THE GATE SO WE CAN GO RACING!!!!
RACERS REGISTERING EARLY HAVE 1st CHOICE ON THEIR RACE NUMBER! Remember no letters.
Due to Liquor Control Laws, no alcohol will be allowed to be brought into the arena. SECURITY WILL BE CHECKING VEHICLES AND COOLERS AT THE GATE FOR ALCOHOL. NO ALCOHOL or WEAPONS OF ANY KIND WILL BE ALLOWED IN THE PITS. A beer garden is available inside the Arena.
The Race Committee or Arena Officials have the right to refuse entry to anyone. Un-sportsman-like conduct will not be tolerated and Security will be available to handle any problems.
Due to the shortage of space available in the pit area, we can only allow ONE vehicle per mower into the pit area. A Driver who has paid the registration fee is allowed TWO assistants to be admitted in free. THEY MUST SIGN UP WITH DRIVER and have their hand stamped and waivers signed. The driver is responsible for his/her pit crew and their behavior.
SEND ALL CORRESPONDENCE AND QUESTIONNAIRES/WAIVERS TO:
Jim Schaffer
P.O. Box 37
Mineral, WA. 98355
If you have any questions, please call
Jim Schaffer
at 253-691-6327.
GUIDELINES FOR THE LOGGERS' JUBILEE LAWNMOWER RACES
Drivers must be 18 years or older.
No Alcohol or Firearms allowed in the pit area.
Drivers must wear helmets.
The race committee will set up track rules before each race.
Track rules will be explained at the driver's meetin. The race committee has the right to refuse entry to anyone and also has the final say whether or not an entry may run.
(Please read rules carefully)
If the race committee feels that you are not complying with the rules you may be subject to a tear down and the bore & stroke may be checked.
Intentional "Ramming" is grounds for disqualification and will be up to the judge's discretion.
Anyone jumping the starting flag will be sent to the back of the pack.
TWO DIGIT NUMBERS ONLY 0 – 99 (NO LETTERS) MUST BE CLEARLY VISIBLE!LETTERS NEED TO BE 5″ AND PLACED ON BOTH SIDES WITH A WHITE BACKGROUND.If we cannot read numbers you will not be scored.
Blades must be removed from mower decks.
A facsimile of a mowing deck must be in place.
Stock lawnmower frame, chassis, suspension, and steering required. (This will be strictly enforced) Reinforcement to the frame is allowed. Steering arms and tierods may be strengthened and steering wheel or bar may be used.
WIDTH: overall width not to exceed 36″ front or back.
HEIGHT: Must have front axle height of at least 5.5 inches.
WEIGHT:No minimum We will no longer be weighing mowers.
Non altered lawnmower turf tires and rims only. (No aluminum wheels)
No knobbies or tractor type V-tread.
Gear ratios and pulleys may be changed. Must have lawnmower gearbox, transmission or transaxle.
Drive chains and belts that are exposed must be shielded.
Brakes are legal, but not mandatory.
Engine must be stock appearing Briggs or Tecumseh 8 H.P., 8.5 H.P., 4 cycle (or smaller.)
Due to the availability of performance parts 5 H.P. engines will not be allowed.
Gas tank to remain under hood but may be moved, must have stock lawnmower carburetor.
NO SLIDE TYPES Gravity feed only. NO FUEL PUMPS
Mowers must be equipped with a GROUND KILL SWITCH that attaches to the driver so that in the event you are thrown from the mower the mower will automatically shut off. (The same type as on a snowmobile)
WE WILL NO LONGER BE SUPPLYING THE GAS…BRING YOUR OWN!!
Any questions or comments please call:
Jim Schaffer 253-691-6327